When you use GoCardless to collect payments for recurring payments the account holder will receive an emailed notification from GoCardless when
The direct debit mandate is set up, and
Each payment is about to be taken.
These notifications are designed to comply with BACS rules for processing direct debits.
You can decide to use your own notifications in place of the standard GoCardless notifications, this allows you to
Have control over the branding and content of the emails and
Send notifications less often.
To set up sending your own notifications you need to:
Set up your notification documents in Donorfy
Make sure you have configired your email server settings in order to send the emails from Donorfy - see this article for more info 
Get your notifications approved by Donorfy
When your notifications are approved switch on

Send Notifications from Donorfy in Settings
When will Donorfy Send Notifications?
Donorfy will send a notification email 
For new signups via a Donorfy GoCardless web widget - i.e. for new recurring payment instructions, or 

Payment is requested for an existing recurring payment instruction that has not been previously notified by you

A change is made to the amount, frequency, start or end date of a recurring payment instruction
Once a notification has been sent further notifications will not be sent unless a change is made to the recurring payment instruction which requires re-notification.
An activity is added to the timeline when a notification is sent, a copy of the notification is linked to the activity.
Setting up your Notification Documents
The notification documents are set up in the same way as other documents in Donorfy - see this article for more information - example notifications can be found here.
You should set up two notification documents for the two situations described in 'When will Donorfy Send Notifications?' above. 
Donorfy will use the 'New Signups' document when no payments have been collected for the recurring payment instruction otherwise the 'existing recurring payment instruction' notification document will be used.
Getting your Notifications Approved
Follow these steps
Add a test constituent with your email address
Go to the test constituent and add a test 

recurring payment instruction to the constituent's timeline - the recurring payment instruction should have a collection method of 'GoCardless' and a GoCardless Mandate Id of 'Test' - save the recurring payment instruction.

Open the recurring payment instruction and from the manage menu p

ause the RPI

Re-open the RPI and choose Send Document from the manage menu, choose your New recurring payment instruction notification document and send it your email address

Repeat the 'Send Document' steps with your existing recurring payment instruction notification document 
The two documents will arrive in your inbox you can then send them to Donorfy Support for approval by attaching them to a new support request. Once you are ready to start sending your own notifications switch on your notification settings...
Switching on
Sending Notifications from Donorfy
Once you have your notifications approved go Settings | Configuration and find your GoCardless settings - choose your notification documents, switch 'Send Notifications from Donorfy' to yes and press Save Changes
Sending a New Notification 
If you need to send or resend a notification for a recurring payment instruction open the recurring payment instruction, from the Manage menu, choose Send Notification then press Notify.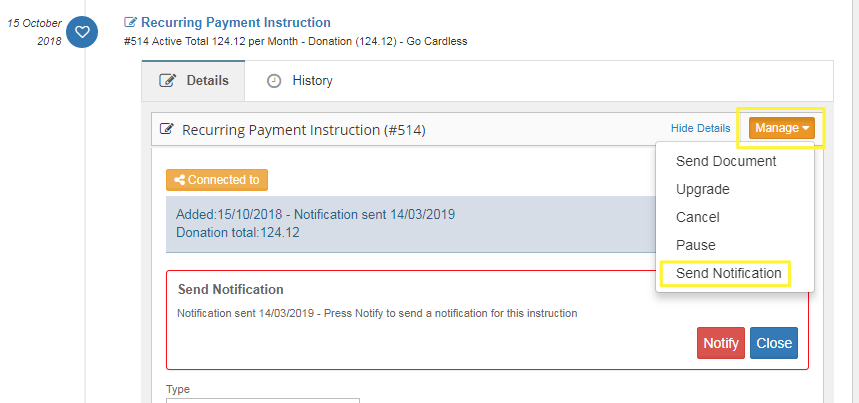 When a notification is sent a Payment Collection Information activity is added to the constituent's timeline.