Why does Donorfy contain duplicate entries after data is loaded from Eventbrite?
This is most likely because Eventbrite has been configured with 2 or more webhooks linked to Donorfy. To avoid creation of duplicate entries in Donorfy, you must ensure only one Eventbrite webhook is configured.
If Eventbrite has more than one webhook linked to Donorfy, these will all be fired simultaneously and will probably be processed in parallel by Donorfy. This may lead to multiple similar constituent, transaction and activity entries.
See Linking Eventbrite and Donorfy for more information.
Why doesn't the integration pull through addresses?
The Eventbrite integration, by default, does not pull through addresses for constituents, this is because a high proportion of people register with just their email address and also the address they use within Eventbrite may differ from their profile one.

However, if you do want to import the address details for constituents you will need to export the attendee list for the event and to then upload this to Donorfy via the File Uploader.
To obtain your attendee list, you will need to:
Login to Eventbrite, click on Manage Events, then locate the event that you require the addresses for.
Click on Manage Event
Then Manage Attendees > Attendee List
Click on Full Attendee Report
Click on > Show Columns to select the required data for exporting
Then Click on Export: Excel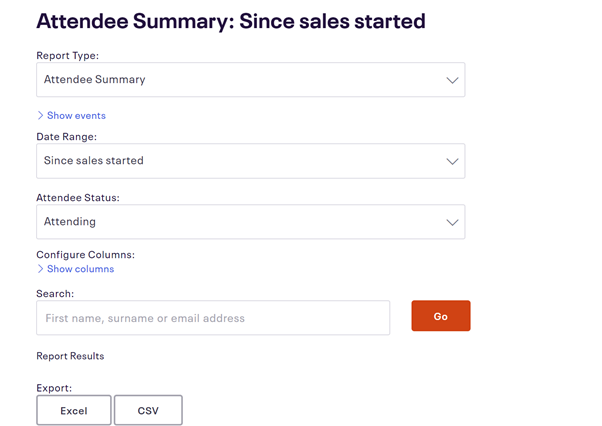 You can then use the File Uploader to Update Constituents records as required.